When it comes to out of control gardens, many of our clients find that they just don't know where to start in getting their gardens under control. We can take the headache out of getting your jungle tamed by arranging and coordinating a plan of attack. We find that the cooler months are a great time to plan ahead for the fire danger period. During the low fire danger season, we focus on garden overhauls, major clean-ups and property clearing.  Call us today and we'll arrange a free quote and management plan.
Let us take the hard work out of your garden.



Yes, that shed is actually hidden in that bamboo!
Believe it or not the table and chairs are in there too! The washing line can just be seen in the after shot on the left, however it is folded down for access while we were working.
This particular job required significant vegetation removal of shrubs, bamboo and grass. As you can see in the before photo the grass is matted right up to the winder handle on the Hills Hoist which is about 60cm above ground.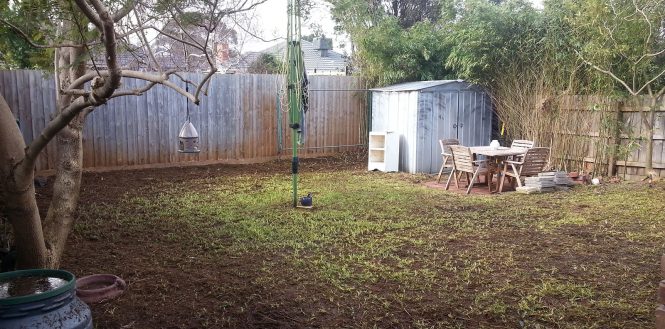 Two months later
It takes a while, but by removing all the excess growth at a time when the scorching sun isn't going to burn off the tender roots, you can provide the right conditions for the lawn to reestablish itself and grow in evenly.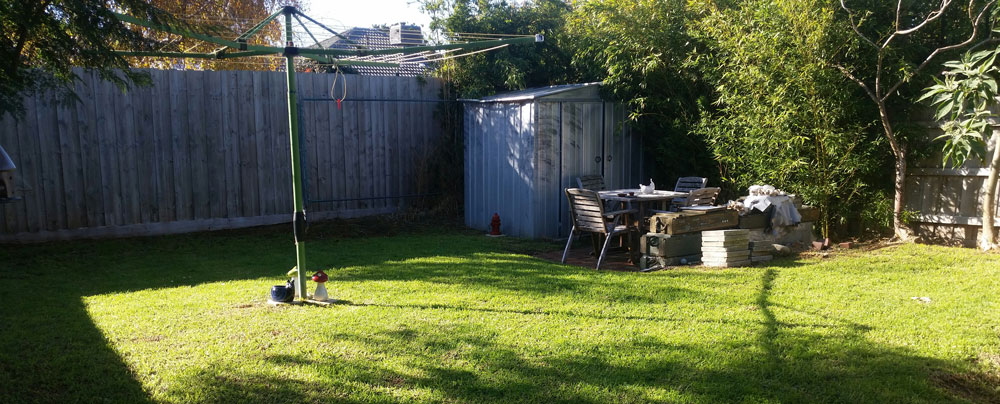 One year later
12 months after the initial cleanup and maintained under our scheduled maintenance agreement this garden is looking just great. Nice manicured lawns, easy to maintain and lovely and green.
Our intent with showing this is to provide realistic expectations of your cleanup. This particular grass is Kikuyu and is extremely hardy and will regrow from even the smallest amount of thatch or roots being left and actually requires scarifying or de-thatching every few years to prevent matting. At this property this had not been cut for approximately 2 years.