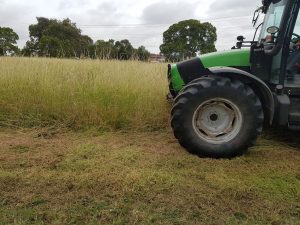 We are looking for an experienced machine operator required for grass slashing works across our government and private contracts.
Tasks include grass slashing, tractor maintenance, trailer towing for driving the tractor between jobs and associated reporting of works undertaken. Travel and overnight stays will occur at the extremities of our contracts but generally works commence and finish at our depot in Carrum Downs each day. Company Android phone provided as well as training on managing job reporting.
MUST HAVE:
COVID19 Vaccination (Authorised Worker Mandate Compliant*)
Manual car licence
Trailer towing experience
Machine operation experience (Tractor grass slashing experience preferred)
Ability to get to/from depot in Carrum Downs
Willing to travel / OT
Physically capable of manual labor / equipment handling
Full working rights in Australia
HAVE OR WILLING TO GET:
National Police Check
Working With Children Check
First Aid Certificate
VALUED BUT NOT ESSENTIAL:
Backhoe or Bobcat ticket
Chainsaw ticket
Horticulture or Agriculture Certificate
Pay & Working Conditions
This is a full time role for 38hrs/week Mon-Fri with O/T . Penalty rates apply for overtime worked as per the Landscaping & Gardening Services award. Starting base pay rate will be above award rates commensurate with the successful applicants level of experience and qualificaitons.
APPLY NOW
To apply, please email your letter of application and resume to info@scenicsurrounds.com.au
If you would like to know more please call Sven on 1300 66 04 77 to discuss the role.
NOTE: ONLY GENUINE APPLICANTS WHO APPLY AS OUTLINED WILL BE CONSIDERED. NO RECRUITMENTS AGENTS OR THIRD PARTY APPLICATIONS WILL BE ACCEPTED.
*Vaccination requirements for select workers
The Victorian Government has announced vaccination requirements for select workers who are not working from home.
The mandate is intended to apply to select workers in Victoria who cannot work at home. By 15 October 2021, select workers must be able to provide evidence to their employer that they have:
received their first dose of a COVID-19 vaccination, or
have evidence of a booking to receive their first dose by 22 October 2021, or
have a medical exemption, evidenced by an authorised medical practitioner.
From 26 November 2021, select workers will be required to have received two doses of a COVID-19 vaccine (unless they have a medical exemption).
https://www.coronavirus.vic.gov.au/information-workers-required-to-be-vaccinated